Do you wish you could turn back time for your skin? If you've noticed that facial movements have caused wrinkles that age you, stealing your confidence, consider Botox®. With quick, simple injections, the Botox experts at 7Q Spa Laser & Aesthetics can smooth away your wrinkles and help you look younger and more energized. To learn more, call their Glendale, California, office or schedule an appointment online today.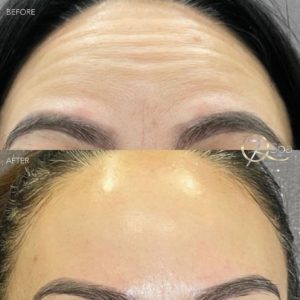 Botox, a form of the botulinum toxin, is commonly used to reduce wrinkles and lines in the face. It can help you reclaim your youthfulness and look your best by erasing frown and worry lines, eliminating crow's feet, giving your eyebrows a boost, lifting the corners of your mouth, and more.
Botox treatment is a simple outpatient procedure that requires little preparation on your part. The aesthetics experts at 7Q Spa Laser & Aesthetics will create a saline solution containing Botox and inject the compound directly into the treatment area.
Depending on the area treated, you may require between one and three injections per muscle. You should feel little to no pain during the injections, and the entire procedure takes less than 10 minutes.
Results are typically visible within 24 to 72 hours.
Botox treatment typically requires no downtime, and you can return to work right away. In fact, many people have the procedure done on their lunch break.
You should avoid touching or massaging the affected area for up to four hours following treatment to avoid accidentally spreading the injection. 7Q Spa Laser & Aesthetics may also recommend you avoid strenuous exercise for 24 hours following treatment.
Most Botox treatments produce results that last up to four months. As time passes, you may start noticing fine lines and wrinkles returning, and you can schedule another Botox appointment.
Botox is safe when administered by a licensed professional, like the experts at 7Q Spa Laser & Aesthetics. Possible minor side effects include:
Pain or bruising at the injection site

Headaches

Drooping eyelid or eyebrows

Crooked smile or drooling

Dry eyes

Excessive tearing
These side effects are rare and typically last only a few hours.
If you experience vision problems, trouble breathing or speaking, or muscle weakness following treatment, call your provider immediately. If you're pregnant or think you might be pregnant, talk to 7Q Spa Laser & Aesthetics before getting a Botox treatment.
If you're ready to eliminate sagging facial skin and wrinkles, call 7Q Spa Laser & Aesthetics to schedule a consultation or book an appointment online.