Are facial lines and sagging skin making you look older and more tired than you feel? 7Q Spa Laser & Aesthetics can help by creating smoother, tighter, younger-looking skin through Juvéderm® injections. With a short, comfortable procedure in their Glendale, California office, you can turn back the clock and refresh your skin. To learn more, call or book your appointment online today.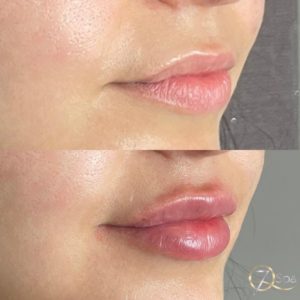 You are probably familiar with Botox®, which is used to fill out fine lines and wrinkles that arise over years of facial use. Those wrinkles develop between your eyebrows, at the corners of your eyes, and around your mouth – the places on your face that move the most when you express yourself.
But what about other fine lines or sagging skin that isn't caused by facial expressions? Botox isn't an effective treatment for static wrinkles. Does that mean you're left to deal with fine lines around your lips, deep nasolabial folds, and hollow, sagging cheeks for good? No! Juvéderm is designed to treat these signs of aging.
This highly-effective injectable gel is made primarily of hyaluronic acid, which naturally occurs in your skin and helps it maintain moisture levels. Over time and with sun exposure, however, your skin produces less and less hyaluronic acid. Juvéderm is an FDA-approved solution that replaces lost hyaluronic acid to give you fuller, smoother, more supple skin.
One of the best parts about Juvéderm is its quick application process. You can get a Juvéderm treatment on your lunch break, then immediately continue on with your day afterward. What's more, most clients only need one treatment of Juvéderm to achieve their skin goals.
Because Juvéderm simulates your skin's natural hyaluronic acid, it seamlessly integrates into your body's natural processes. Consequently, Juvéderm lasts much longer than Botox. Most clients will continue to see smooth, full skin for at least six months, and some results can last up to a year.
Absolutely! Juvéderm is an ideal lip filler. Its hyaluronic acid adds moisture to your lip area and attracts the body's natural plumping agents, giving you full, natural looking lips. The lip filling experts at 7Q Spa Laser & Aesthetics will use a numbing agent during your lip treatment to ensure a completely comfortable experience that gives you impressive results.
When used to fill lips, Juvéderm's results usually last up to one year.
Do you feel like sagging, wrinkled skin or thin lips are keeping you from being your most confident self? If you would like to explore a safe, effective way to restore your face's youthfulness, call 7Q Spa Laser & Aesthetics or schedule your appointment online.