Give your skin a radiant, youthful glow with the most effective, gentle European Facial in Glendale! Similar to a traditional deep cleansing facial, 7Q Spa's European Facial treatment focuses on both exfoliation and extraction, removing dead skin cells and clearing clogged pores to promote the growth of new, healthy cells—all while you relax in a soothing, luxurious environment. Great for reducing fine lines and wrinkles, the European Facial is an essential part of your weekly skin care routine. Contact 7Q Spa Laser & Aesthetics Center today to learn more about our reinvigorating facial treatments.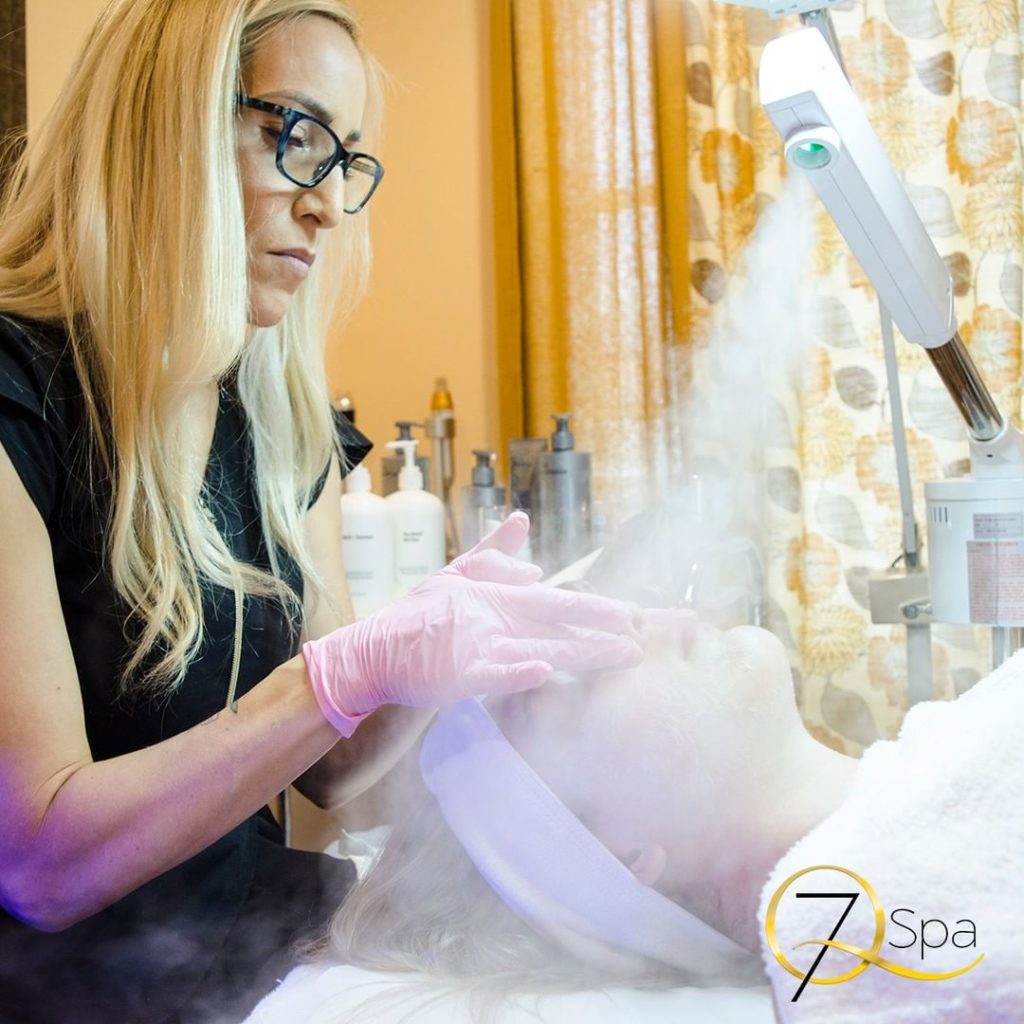 A refreshed, revitalized, complexion.
Accelerates the removal of dead skin cells
Minimizes the appearance of Pores.
Diminished Appearance of Wrinkles & Fine Lines
Healthy, Hydrated Skin
7Q Spa's highly rejuvenating European Facial is a 60 to 90 minute treatment that will leave your skin feeling clean, refreshed, and hydrated.
Many of our 7Q Babe's report a "healthy glow" or "radiance" for up to three weeks following the treatment. Redness, dryness, skin flaking, and irritation may be signs of an adverse reaction to a product; if this occurs, contact us immediately.
1. Consultation
7Q Spa's aestheticians have trained extensively and are well-versed in a variety of treatments and modalities that will help address your skin's needs. We'll conduct a preliminary consultation to help determine your overall beauty concerns and goals prior to an analysis of your skin type. Based on this analysis, your aesthetician will create a customized treatment plan.
2. Cleansing & Exfoliating
To begin, your aesthetician will use an exfoliating scrub to gently cleanse your skin and slough away dead skin cells. This step of the European Facial may also incorporate warm towels or steam to remove excess oil, old makeup, and open the pores.
3. Gentle Extractions
To ensure your skin looks and feels healthy, one of our highly-skilled aestheticians will carefully extract any stubborn blackheads and/or whiteheads. We're always gentle but those with sensitive skin may experience temporary redness.
4. Mask and Massage
Once any blackheads, dirt, makeup, and dead skin cells have been removed, your aesthetician will apply a facial mask customized to match your specific skin type. During this step, a massage is offered to relax the mind and amplify the therapeutic effects of the facial treatment.
Toner, moisturizer, and SPF to follow. Enjoy the glow!
Our Spa Menu and Facial pricing is subject to change. Check out our Monthly Specials and subscribe to our newsletter to get the best deals on treatments like the European Facial!
Maintain your youthful glow all year-round with the most professional, relaxing European Facial in Glendale! Contact us today to book a facial or purchase a package.